Today I will guide you in your search for the perfect acrylic nails. Here you will discover how nice it is to have the best nails in the world, especially as nails are considered a true work of art today.
Acrylic Nails: The Best Way to Highlight the Beauty of your Hands
If you love the idea of ​​acrylic nails but you can't make a decision because of insufficient information, you have come to the right place!
I want to offer you as much information as possible so that you can see that having those beautiful acrylic nails you see on Instagram or Pinterest is possible for you.
I also went through the same things you do at some point, and I know you have a lot of indecision, questions, and more. That's why I realized that a lot of information out there is not only difficult to understand, but also boring.
HEY! Still around here? Do you want to deepen your knowledge about Acrylic Nails and be the expert among your friends? Very good!
Let me warn you that this decision has no turning back, and that everything you will see here, and apply it to your life and your nails, will make you fall madly in love with this activity. Because you will become addicted to that wonderful sector that borders your fingers, you will need to stop eating your nails when you are nervous, and you will also be able to highlight them in ways you did not imagine. Are you ready? Come on!

Now that we are all on board, I will summarize what we are going to see:
First we will review together the origin and history of this technique, then we will discuss the types of acrylic nails, the designs, the benefits of wearing this type of manicure and the care that they carry.
I'll let you know right away that maintenance is not easy, and it will take time. However, it is a habit that will be worth adopting, especially if you want to have those fabulous nails you dream of. The same ones that you see in the afternoon drama or that soap opera that leaves you stuck asking you how the evil mother-in-law with all the things she does to finish off her daughter-in-law still has the time to get those perfect nails. Don't worry, I'll will make it easy for you. That's why I'm here.
With nothing more to say, let's go!
What are Acrylic Nails?
The acrylic nails are fake nails created from molds of polymers and monomers used to decorate and improve hygiene in our hands.
Know all the terms and definitions, in the most complete glossary on the Internet about Acrylic Nails! Read more
Nail Art Gallery
Images of Artificial Nails Simple but Beautiful 2019
Maybe it seems strange that I'm sharing the history of acrylic nails because you are sure that this can't be interesting. Believe me, with this summary of the history of acrylic nails, you will get more than one surprise. >>Read More<<
What Types of Acrylic Nails are There?
The world of sculpted nails is vast, and there is much to discover. So today, I want to introduce you to the different types of acrylic nails available to you.
Part of what makes the artificial nails so interesting is that they vary a lot, depending on each professional and the aesthetics of each one of us. The sky is the limit when it comes to personalizing or decorating your nails, so feel free to be creative.
In the world of sculpted nails, there are at least three main categories. I'll talk in general terms about the three main categories based on their materials: porcelain nails, gel nails, and acrylic nails.
Porcelain nails
Porcelain nails, as we learned, were the first type of sculpted nails. In their time, they were the most popular options. Modern techniques involve the use of fiberglass, which makes the nail thinner. These nails are applied with molds or tips.
Gel nails
Gel nails also became a super popular option because they present a cheaper alternative and they're easy to apply. Just put the tip on the edge of the nail, cut the natural nail flush, apply the gel with a brush, and dry with ultraviolet light. These nails are also filed, shaped, and decorated to taste. The gel is more resistant than porcelain. This means it's thicker, and with a bulkier look. >>Check out these beautiful Designs<<
Acrylic nails
Last but not least, we have acrylic nails. These nails last longer (up to 6 months) than porcelain and gel nails. However, the big difference here is that acrylic nails take a lot more work than others since molds must be made to be identical to our natural nails. Once this is done, the acrylic is applied, and the result is a nail that closely resembles resistant plastic.
Know in detail the different shapes of acrylic nails that are setting trends and styles for each one. >>Click Here<<
Acrylic Nails Designs
Any of these sculpted nails can be customized as you want. The world of nail art is very broad, and there are too many decorating techniques, such as the combination of shades; different nail shapes and types of length; the use of rhinestones, stickers, and other materials such as frost; the application of drawings, designs, patterns; the use of pastel colors, fluorescent, bright, etc.
Really, the sky is really! Through sculpted nails, we women have an incredible channel to express our creativity, our individuality, and our personal style.
Currently, the design of sculptured nails is a trend in nail art, and it is enough to spend five minutes on Instagram or Pinterest to know that the techniques and decorative arts leave you breathless.
Within the world of nail art, everything is valid. Also, in this creative process, you can put colors into play, as well as decorations, drawing techniques, different types of brushstrokes, frosting, and more.
When it comes to acrylic nails, it is worth going to specialized sites where they not only treat you like a queen but use quality materials and have the necessary knowledge to make your nails a work of art.
There are a lot of nail styles, and each one fits perfectly to your tastes. So, I invite you to explore this website carefully because my mission is to keep you up to date on the best techniques, materials, and designs for every occasion.
On this site, in addition to information and tips that you can easily understand, you will also find a lot of inspiration.
I'll show you the most elegant, beautiful, and popular trends of the moment so that you can be inspired and have something new to try whenever you go to the manicurist.
Being able to try new things on the nails is a big part of the fun of having acrylic nails, so I want to stimulate your sense of aesthetics and your creativity. Your nails can be a work of art if you wish; you just have to give yourself the opportunity!
Acrylic Nails by Color
What are the advantages of wearing acrylic nails in this 2019?
The acrylic nails offer many advantages over other materials. The designs and models are incredible, and they've created a culture in which it is possible to wear any personality on the nails.
That said, you have to be very careful to avoid damaging our natural nails. I know you've probably heard horror stories, and a lot of people have bad things to say about it.
However, the truth is that if you go to professionals and you make sure that the materials are of high quality, there is nothing to fear. Acrylic nails don't damage natural nails as much as people believe. In fact, it is the type of sculpted nail that allows less contact of the chemicals with your natural nail.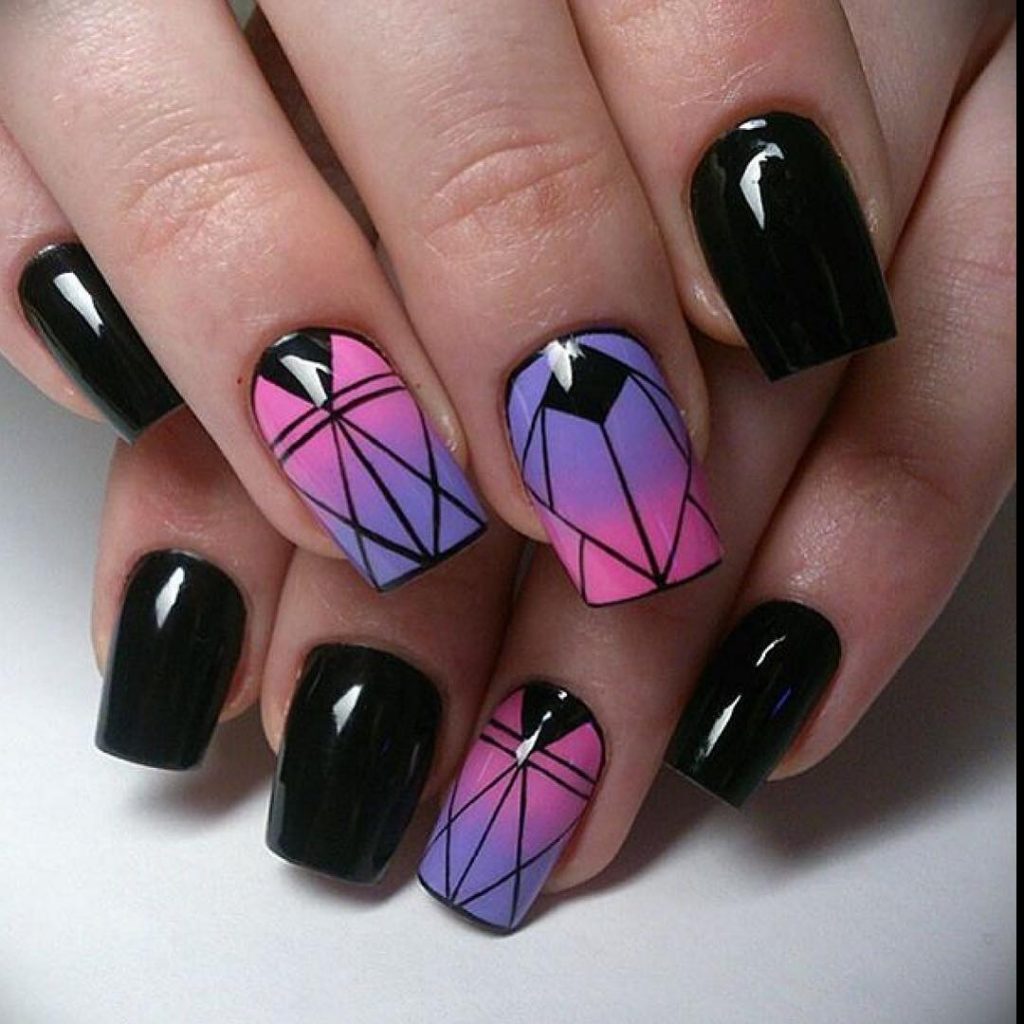 Another great advantage is that this type of nail can be molded and designed as you decide. You choose the length of the nail, the shape, and the decoration; that is to say that finally, you can have your nails dreamed.
In addition to this, acrylic nails offer protection to your natural nails, while also creating a strong and resistant layer.
However, perhaps the biggest advantage is that the acrylic nails completely change your hands, making them look more elegant, cleaner, well-maintained, and simply beautiful.
This type of manicure is the best option if you want your nails to be protected and look better than ever, so do not hesitate to try them.
Here you can learn step by step how to remove your acrylic nails easily and painless at home. I will teach 2 of the most common methods to sock off your acrylic nails. >>>Click Here<<< to read more
How do I keep my Acrylic Nails?
Many women believe that acrylic nails take care of themselves and that you just have to show them off and that's it. This is a big mistake! Maintenance is essential both for the care of your natural nails and for the acrylic ones.
The good news is that maintenance habits are easy to adopt!
To begin with, you just have to keep the nails dry as much as possible. Humidity is the enemy of acrylic material, and it'll affect the duration of your manicure.
Using antibacterial soap is essential if you want to make sure your natural nails are well taken care of.
Keeping acrylic nails in good condition is also very important. If your nails receive any damage, it is best to go to the room to touch up and correct the damage as soon as possible (although here, I can also help you do it yourself). Otherwise, you risk breaking the nails and producing the odd microfracture. In fact, the touch-ups should be done weekly, even if there is no damage, in order to keep the nails clean.
You should also be aware and if you notice any symptoms of dryness or redness on your acrylic nails, contact your professional manicurist. These symptoms can be a sign of an allergy, so you have to be very careful.
And finally, I remind you that keeping your acrylic nails hydrated is very important for your health. That's why I recommend using cream and neutral oils often. I hope you found this article useful and that you are as excited as I'm to learn more and for everything you will discover that you can do to beautify your hands and be the envy of all